WILD WOMAN MOON CIRCLES=
heart + soul

of the project
 It is comforting to know there is a place to come to where you will laugh, sometimes cry, and always be showered with positivity and support from the moment you set foot in the room – even if it is your first time there. It is a true community. ~Jorli Pena
 What happens in a WILD WOMAN Moon Circle?
Women (and Men if the circle is 'Unisex') gather in a comfortable setting and join together in:
Guided Meditation
Group check-in
Intention Setting based on the theme of the month (Ex: Playing Your Edge, Living in Service)
Group Ritual/Exercise
Creative Visualization
What do the Circle leaders do?
After completing the WILD WOMAN Circle Leader Training online or in person,
S(he)  guides the group through the theme, mediation, group sharing and intention setting which change each month.
The leader will choose the space and decide if it's a public circle(posted on the site, open to all) or private(one just for her friends and loved ones). Leaders are encouraged to make her circle, her own.
all the circle leader asks is a donation(between $1-$20) to cover her expenses(space, supplies), to pay her for her service, and s(he) even donate a percentage to a local charity of her choice.
When I leave the circle, I feel newly energized and excited for the month ahead. ~Milana Vayntrub
When do Moon Circles take place?
The circles take place on or near the New Moon each month.
Why the New Moon?
In order to have a closer relationship to nature, we plant our seeds, our intentions, when the moon is "new" and nourish them as the moon grows into fullness. It's also a really potent time for setting intentions, astrologically speaking. If the astrology isn't really your thing, just think acknowledging the New Moon as a way of syncing with nature.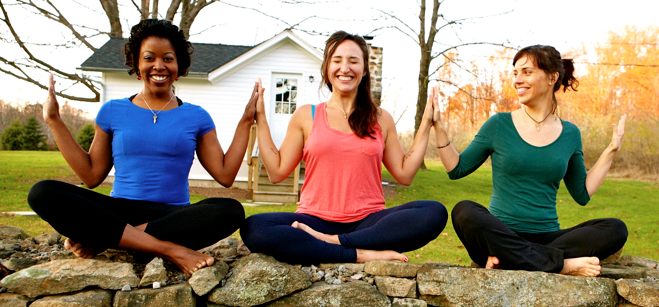 Where do circles happen?
It's totally up to the circle leader. A circle could happen at a yoga studio, in a living room, at a community center, a beach, a park. Circles are intimate, so it's important that there are no spectators.
How many wo(men) attend?
A circle can be anywhere between 2 and 25 people.
How long do they usually run?
Depending on your circle leader and the size of your group, between an 1.5 and 2 hours.
A heartwarming, encouraging and motivational experience. ~Kari Papadinis
Do they cost money?
All circles are by donation.
Is it therapy?
Not at all. While the effects of the time you spend with your fellow circlers can feel therapeutic. CIRCLES ARE NOT THERAPY.
 Are these circle associated with any religion or philosophy?
I look for the sweet spot where the wisdom teachings of the mystics, poets, spiritual leaders and astrologers meet. From there I create meditations and rituals or activities for the circle leaders to pass on. Each circle leader lends their creative voice and inspired additions to color their circles and serve their community of Wild Wo(men).

The Woman's Circle has provided me with a safe haven to explore what has been going on in my life with other beautiful women who share the same trials and tribulations. It has been a beautiful thing to witness change and progress in my fellow yogis. ~Palma Cassara



Sign up for Sunday tips on Radical
Courage

, Deep

Faith

+ Living

WILD

ly