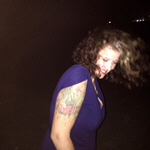 Sarah Akers – Northern Virginia & Via Telecircles (from anywhere)
Sarah Akers is the founder of
TheDepressedHiker.com
. She is dedicated to helping every person find and speak his or her truth! To help every soul live a life in full sovereignty, bliss and individual power! She believes in that all people are called to Rise to their Authentic Wild (RAW).
Many people ask why The Depressed Hiker? Depressed has many definitions, one is to be "vertically flattened". So many people vertically flatten themselves to this planet. Never understanding they go through the ground to the core of the earth and beyond the sky to infinite. The Depressed Hiker is on a journey to hold space for other souls, so they can remove any boundaries that vertically flatten their lives! She found the strength to return to her authentic self while hiking in nature, walking away from a life of depression. Depressing her feelings, truth, authentic spirit, intuition and innate power
Telecircles are held via ZOOM!
Contact her at riseauthenticwild@gmail.com for more information!