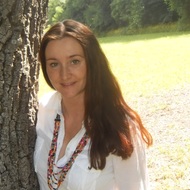 Gabriele Gattringer – Kaltenleutgeben/Wienerwald (close to Vienna), Austria
Gabriele is a wild woman, healer, teacher and mother of 3 sons. She is more than 13 years on her spiritual journey, doing energetic and shamanic work. She is an intuitions and consciousness trainer, working in her energetic practice "Curacion". For years she supports women to come into their power.
Her Wild Woman Project Circles are created indoors and also in nature. Fire ceremonies are part of the circles as often as possible. The circles are also influenced by her shamanic work and give them deep roots.
She loves to offer a sacred space for women where each of them can feel supported and nourished and where they can find their inner guidence. She can see the goddess and the wise in every woman.
Gabriele offers monthly New Moon Circles in Kaltenleutgeben/Wienerwald, close to Vienna, Austria.