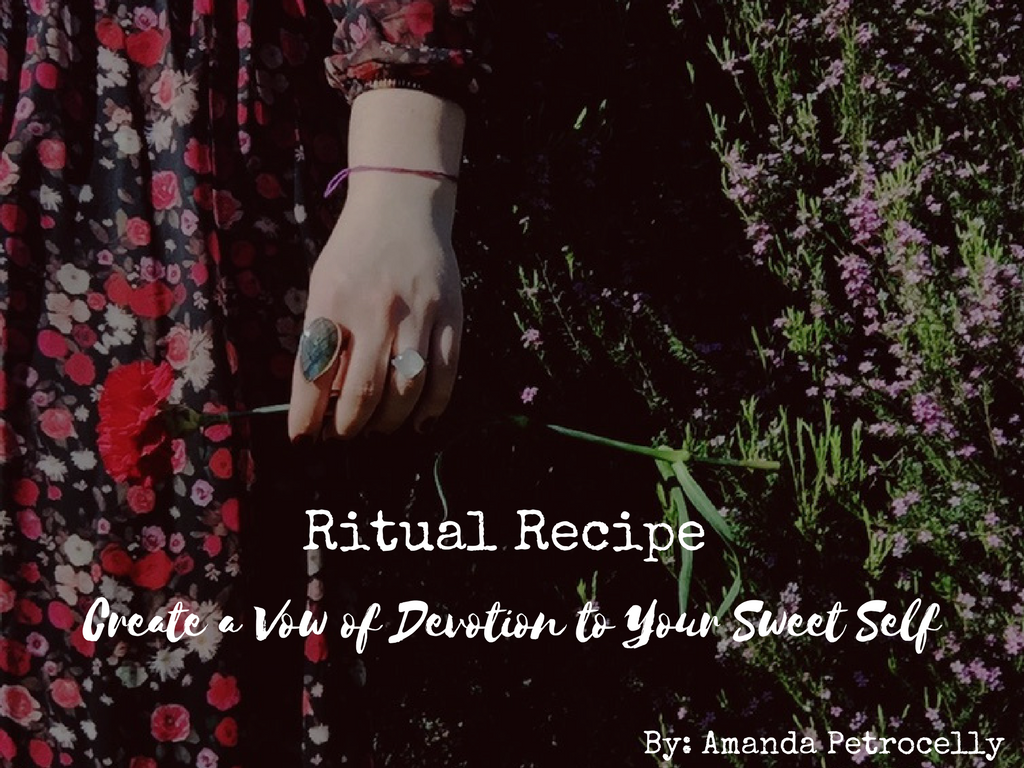 Here at The Wild Woman Project we are just over a quarter of the way into the Devotion Moon Cycle (February 26 – March 26). We are looking deep into the qualities of Faith, Inspiration, Enthusiasm, and asking ourselves the question 'what do I stand for?'. When I began pondering devotion, I focused on what gives devotion it's own specific hue of LOVE.
For me, devotion is love in action- even when it's not easy. Devotion is the washing of one another's feet, the late nights with your brokenhearted best friend, the sudden, sort of, okay-ness with the gross stuff when someone you love is sick. Devotion is steadily showing up for who and what you love.
We often tirelessly show up for who and what we are devoted to. In fact, for many things in our lives we take vows promising our continued dedication. We make spoken and unspoken vows to our partners, our faith, our families, our best friends, and our children.
Can we show up with this kind of devotion for ourselves?
Please use this Ritual to create a Vow of Devotion to your sweet self:
Spend Some Time With Yourself
I recommend, either in your minds eye or in your mirror (which sounds silly, but can be incredibly powerful) looking into your own eyes. Allow yourself to be seen; see your joy, hurt, fear, anger, desire, insecurities, truth – see it all. Be gentle with anything that comes up for you. Give yourself permission to just be in your heart.
Inquire
Ask your heart on it's deepest level: How can I be more deeply devoted to you?
Listen
Really listen.
Sometimes our needs reveal themselves in the form of DEEP desire or feelings of ecstatic excitement. Sometimes, our needs reveal themselves by showing us where we are hurting.
Allow the answer to come through you.
Make a Vow
Turn what you are hearing into a vow, a promise to yourself. Try to get to the core of it. For example, if you are feeling like you are tired all the time, it might be something deeper then just needing more sleep. Your vow might be something like "I vow to make myself a priority" or "I vow to stop denying myself what I need to thrive".
Bonus Suggestion:
This Moon Cycle, after I made my vow, I tied a simple string around my wrist (you can get more creative here). I find the practice of creating something physical that I see and touch each day helpful in keeping my intention in the front of my mind. Every time I look down and see my purple string it reminds me of the vow I made to myself, like a very tiny fraction of what a wedding ring represents, I have tattoos, wear certain pieces of jewelry for this same purpose.
▽ ON THE HORIZON ▽
3.31.17
Last Year's FEST Sold Out in 4 DaysIf you are feelin' the call,