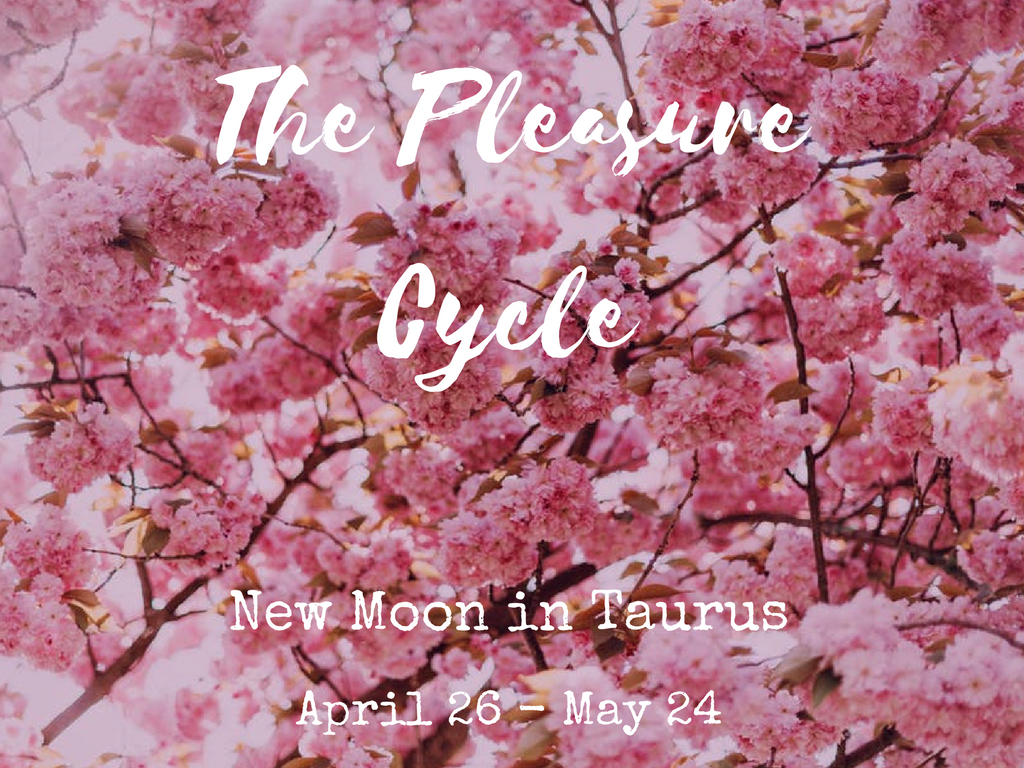 Dear One,
The Moon is New today, ushering in a new cycle, a new chapter of our lives.
New Moons are a time for deep breath & tuning inward. This particular New Moon, inspired by the astrological archetype of Taurus, we are evoking the quality, experience & practice of  Pleasure.
In the constant hustle of work, achievement, and the challenging nature of the times we live in, deep and profound pleasure has become an endangered experience. And yet, there is hope. Pleasure has deep ties with the feminine aspect in all of us. Part of what I find so exciting about the rise of women in leadership far and wide is the opportunity to have true pleasure and her children relaxation, restoration, healing & ecstasy woven into the culture.
Today & throughout the cycle you are invited to be in the question: Will you slow down to take pleasure in your precious days on Earth?

I made this video to help you initiate what we at The Wild Woman Project are calling, the Pleasure Cycle (April 26 – May 24th). We will look at the whys & hows of this delicious exploration! Grab a cup of something delicious, perhaps bring me outside & let's talk!
Want to go deeper into this question & theme with a guided experiential journey?
There are 2 ways.
1. Find a Wild Woman Project New Moon Circle Near You
In this international network of circles, you can expect: A Sensuous Sacred Space held by a trained WWP Facilitator with Guided Meditation, Sharing, Intention Setting Ritual & more.
2. Download Your New Moon Companion (From Anywhere)
In this Solo Virtual Retreat with Me, expect instant access to 2 MP3 (An in-depth New Moon Talk & A Guided Meditation), along with a Dream Sheet PDF with instructions & inspiration for powerful Intention Setting.
Okay, fam.
My Prayer:
Let us surrender to the simple joys of being alive & dedicate our time and focus to those things that bring us the deepest possible pleasure – for the bliss and healing of all involved.
From the Bottom of My Heart,
Chris
P.s~
Join us for the 4th Annual WILD WOMAN FEST this August!
Read: 13 Things that will happen at WILD WOMAN FEST

Last Day to Claim Your Early Bird ticket is April 30th!