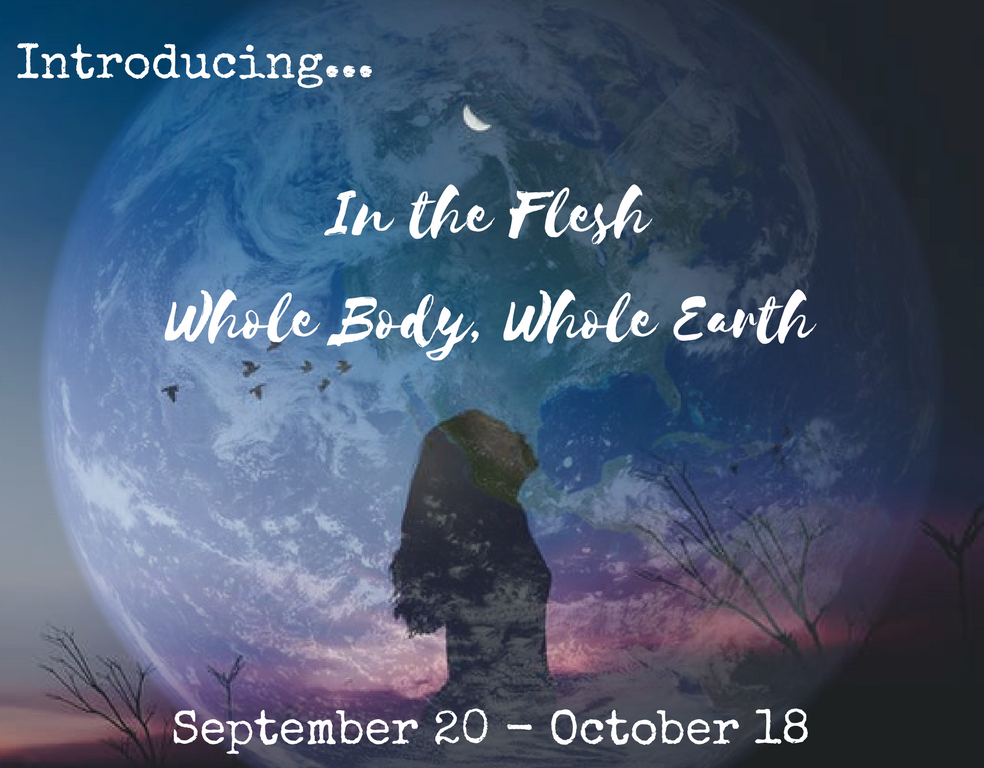 Dear One,
The New Moon is here.
Arriving a few days before the Autumn Equinox, change is in the air.
This particular New Moon holds a great significance here at The Wild Woman Project. We are officially stepping out of our Mystic Moon Series and into a new exploration:
IN THE FLESH – In the next year, starting this Cycle & culminating at WILD WOMAN FEST '18, we will attempt to experience ourselves from inside, out. Informed by a commitment to be in service to the great family on Earth, we will be focusing on truly inhabiting our own bodies. Instead of constantly asking "how do I look?", we will ask: How do I feel? And trust that our interior experiences have a big role to play in healing ourselves and our world.
As always, I made this video for you introduce our theme of the Moon Cycle (September 20 – October 18 2017) – In the Flesh: Whole Body, Whole Earth.
Grab a cup of tea and let's talk about:
•The Moon Cycle/Chapter
•What Prophecy has to say about Women
•How living truly IN our bodies changes the way we move through life
•The Relationship between our bodies and the Earth
•And some other New Moon Inspiration
For this Cycle, let us be in the questions:
a – How can I experience the wholeness of my body from the inside, out?
b – How is my body a mirror of the body of the Earth?
Want to go deeper into these questions & theme with a guided experiential journey?
There are 2 ways.
1. Find a Wild Woman Project New Moon Circle Near You – In this international network of circles, you can expect: A Sensuous Sacred Space held by a trained WWP Facilitator with Guided Meditation, Sharing, Intention Setting Ritual & more.
2. Download YOUR NEW MOON RETREAT: A Video Workshop – In this 50 Minute Video Session, I will guide you in unearthing your inner wisdom & potent intentions for the Moon Cycle ahead. Expect guided in Inquiry, Meditation & Intention Setting, plus some other inspiration.
Okay, fam.
I will leave you with these words from Harriet Lerner, Ph.D.:
"Being in touch with our bodies, or more accurately, being our bodies, is how we know what is true."
Deep Love & Respect ,
Chris
ON THE HORIZON
Fall Circle Leader Training
Registration Now Open
We Begin 10.30.17
Maybe, just maybe, you are the leader you've been waiting for…