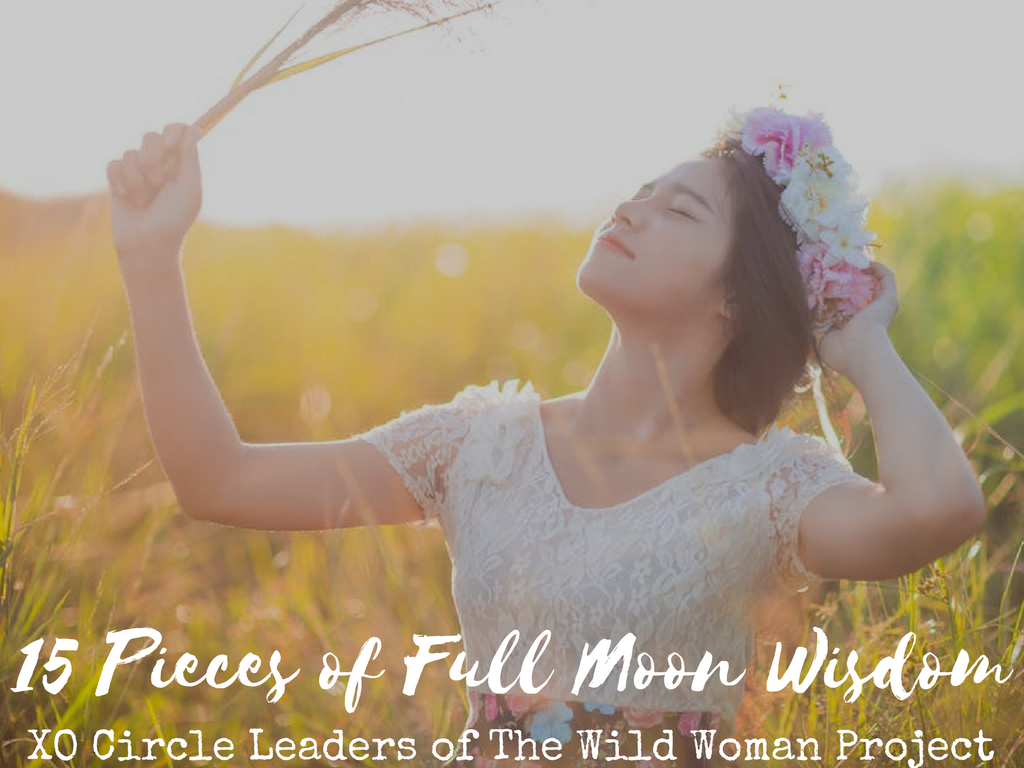 Dear Wild Woman,
Today is the Full Moon and we are halfway through our Whole Body. Whole Earth. cycle. This Moon Cycle is the first cycle in our year long series, In the Flesh, where we are exploring all the ways we can feel more deeply embodied. We are exploring what happens when we stop asking 'how do I look?' and begin asking 'how do I feel?'.
Here at the Wild Woman Project we deeply believe in the power of learning from and celebrating each other's diverse experiences, stories, and perspectives. This Full Moon, we have asked the Circle Leaders of The Wild Woman Project to share their experiences with you by answering this question:
What is one resource/practice or inspiration that has helped you experience your body from the inside out?
"For me, learning to harness the power of my menstrual cycle has been a huge way that I connect with my body from the inside out. I now know when to tap into the ebbs and flows of my energy during the month and for what purpose (expansion vs. contraction, outwardness vs. inwardness) which has been hugely empowering. Recognizing that my body is aligned with the cycles of the earth and moon has been incredibly spiritual and has connected me to my divine femininity in such an exciting way."  

~ Leigh-Anne Lui, Los Angeles CA
"I have been doing hypnosis with a therapist for the past 6 months. It has helped me unlock my unconscious mind, and has given me the power to go within to find out what I need. It has also silenced the voice of my abusive ex husband, which had gotten in deeper than I had thought possible, truly helping me reclaim my body and mind."

~Natalie Bird, Cincinnati, OH
"Being in my body is guided by the practice of following the Moon. Our work at the TWWP, of honoring the Moon Cycles as a reflection of our own cycles is a true embodiment of our Earth. This mirrored connection grounds me to the Earth and to my body itself. I am finding that every month I can go deeper into a whole and sacred mental and heart space that gives me a ton more resource around my feelings of enoughness, anger and fear. I am so much more capable of finding the center of the stormy journey and creating from that space. Tuned into what I REALLY need, and not from fear or feelings of lack!"

~ Jennifer Hryciw, Pacific, WA
"For me it's dance. The combo of auditory and physical is emotional, spiritual, and mindful and encourages wildness. We open every circle with dance, percussion instruments, and some hip driven (Latin, African, Polynesian, Middle Eastern) beat. It brings a happy vibe, shakes off whatever was happening before, and gets us present."

~Laura Giles, Richmond, VA
"Meditation 1000%. It allows me to experience my breath, my damn monkey mind, my back as I sit straight, my legs if they get numb (when I used to do cross legged) my heart beat, that space in the middle of my forehead that I experience when the monkey mind finally shuts up for that one glorious moment of peace and quiet."

~ Lisa Jemus, Calgary, Alberta
"Swimming, swimming, swimming. In particular, swimming nude, in cold bodies of water (shoutout to lakes!!). There is nothing that gets me INTO my body, INTO my spirit, and INTO my aquatic smiling creature self, like swimming in cold water."

~ Sabrina Dora Lopez, Miami, FL
"I practice being my body's best friend. We are truly in a relationship. And when I hear myself saying things to her that are unkind, I ask if I would say that to my best friend. I ask her what she needs to feel supported. I ask her how she is feeling. I apologize if I have pushed her too far. In order to really be in touch with my body, I practice both stillness and movement. In stillness, I fully relax each part of my body and let her wisdom speak to me. I ask her "What do you need to say hurray today?". And in movement, I let her stretch and walk and dance and bend and flex and truly feel alive. Those two things, back to back to back, help me sync up with my body so we are living in harmony, and not separate."

~ Kimmay Caldwell, New York City, NY
"One of my favorite things to do in nature is opening up each of my senses… one at a time and then allowing myself to follow my "body radar" or my intuition on where to go. I just go where I feel my body wants to go, and try not to rationalize anything. It's a simple wandering exercise and if you go in with child's play attitude it does wonders to clear the mind 🙂 not to mention you actually recalibrate your system where you connect to the natural surroundings around you. I also use chanting and sleep… lots of sleep!"

~ Julie Kunz, Millerton, NY
"Saturday I attended a soul triathlon. I ran a 5k, did 90 minutes of yoga and then meditation. The sequence really allowed me to release and tune into my body. My mind became calm and my body felt strong. I felt totally at home."

~ Raven Henin, Phoenixville, PA
"When I'm feeling disconnect, I lie in the Earth in my favorite nature spot and just awaken my body, reconnect to her. I get very quiet and listen taking in every sensation, every breath and remaining very present. I also love to move my body wildly in any way it wishes. Dance, twirl, shake, love! I let her have whatever she desires!"

~ Aimee McLear, Berkshire County, MA
"Oh my goodness, there are so many delicious choices. I love being playful with how the Shakti in my body wants to be expressed. Sometimes it's dance or any variety of simple stretching. Other times more vigor is needed so I tend to opt for yoga or jogging, and let the sweat cleanse me from the inside out like a watery little baptism. Each practice asks to be accessed at different times, and each offers a unique expression of my inner world."

~ Sarah Cavrak, Atlanta, GA
"I did not have a full appreciation for my body until I was pregnant and experienced tremendous change within and without my body. Pregnancy, and yoga, which I practiced throughout, gave me a fuller awareness of my body and its strength, flexibility, and resilience. It was a journey to embrace my three bodies: the one before pregnancy, during, and post pregnancy. Throughout pregnancy and nursing stages, I felt like my body was not my own, yet I felt very beautiful. As my son became more independent, and yoga practice more consistent again, I came back into my body. Now, I try to be present in my body in all things: through yoga, dance, meditation, sleep, sex, work, play, etc."

 ~ Emily Alvarez, Lancaster, PA
"Practicing yoga in the park this summer under a grove of trees, I laid on the soft earth and looked up through the branches and leaves to the sky. Breathing in the cool morning air I let the layers of stress ease away and I began to feel a renewed sense of balance and groundedness. Turning onto my belly I looked through the grass and viewed the earth from a tiny insect's perspective. Senses enlivened, I gave myself this moment to feel myself from the inside out. Nature has a way of bringing me back home to myself."

~ Lynne McNelly, Toronto, Ontario
"My body became my own when I became a naturist. Shedding my clothing gave me the purest connection to Mother Earth. I didn't know it then but the first time I took my clothes off (so she and I could build a relationship) was the first time I could feel my body breathe. Mother did not disappoint as she gifted me with my very first practice in breath work meditation. Each meditation makes me completely aware how much my body held and holds unwanted memories. It is a release of strong emotions that grip my body and cause pain. My practice is out doors for a minimum of two hours everyday. I must clarify that I am a nudist not nuts and when the weather does not cooperate or the seasons are changing my practice flows with it. Sometimes I wear a raincoat and sometimes I sit by the window just breathe in her beauty.

~ Maria Mezger
"Dance and flowing with the energies. Just allowing my body to feel, flow, and connect with What Is brings me back into presence, and it is such a healing experience.

~ Suzette West, Port Orchard, WA
Now it's your turn! What is one resource/practice or inspiration that has helped YOU experience YOUR body from the inside out? Please share with us in the comments below! We would love to hear!
With Love & Full Moon Beams,
Amanda Petrocelly
Director of Communications & Creative Development
The Wild Woman Project
On the Horizon
WILD WOMAN SCHOOL
How to Truly Live In Your Wise Body (like, right now)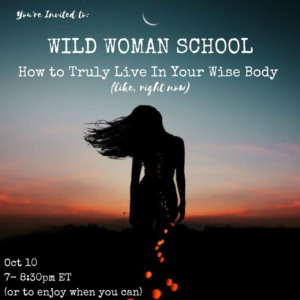 Join us from Anywhere
WILD WOMAN PROJECT FALL CIRCLE LEADER TRAINING
Registration Now Open!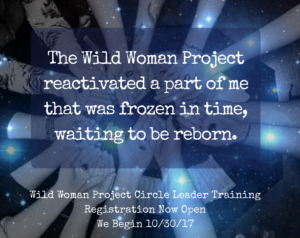 We begin 10.30.17