About the Campfire Series:
Here at The Wild Woman Project, we deeply believe in the power of learning from and celebrating each other's diverse experiences, stories, and perspectives. We also believe there is great power in allowing yourself to be witnessed. The Campfire Series gives us the feeling of gathering with our closest sisters around a fire (or a candle, or a bottle of wine) and sharing intimate stories. Naturally, when women gather, no two experiences are the same. These stories can range from sharing deep epiphanies, "hell yaasss" moments, heartaches, and downright silliness.
~ ~ ~ ~
Dear Beloved Wild Women,
As I focus on my skin as the boundary between myself and the world around me, I have been giving a lot of thought to being externally defined by skin color and trying to be conscious of whose eyes I am looking through as I seek to define my complex, wild, messy, and sometimes brave self.
For much of my life I internalized the outer cultural, social, parental, religious, racial, and economic structures into which I was born. I became infected with the same sickness that infects everyone born and reared in these deeply embedded power structures. This "ism" sickness feels sticky, tightly interwoven, self-perpetuating, numbing and limiting, dividing me from myself and others. Seeking to heal, I peel away layers of "isms." My skin has always known what it needs to let go of, as it sheds and renews itself day after day.
As I allow myself to be fully in my skin, to define myself, to be free of external influences, a whole new world is revealed. I see my skin as pale bronze, with pinkish under tones, sprinkled with polka dots of freckles, bumps of blue veins, puckered scars of many shades, and age spots. My skin is beautiful. It is multi-colored, multi-dimensional, multi-textured, and multi-layered. It is a visible connection to the cycles of life in world around me and everyone and everything within it.
Dreams, skin, scars
Wake up, wake up
I'm dreaming.
It's the anniversary of my beloved son's death.
I hear a question.
Do you want to know?
Yes, yes, I barely whisper
You have a lump in your breast!
My fingertips press into my flesh.
There it is.
It feels like a small oval space ship.
Golden light wraps itself around me, singing "it will be OK."
A merry-go-round of doctors
Daddy doctor wants to lop off my breast
And poison my body with dark chemicals
My sister begs, "Please get a second opinion."
Doctors differ.  Opinions differ.
How do I decide?
I feel like throwing myself under a bus.
Guided by an inner knowing
I choose the young, beautiful, woman surgeon
"I am going to take good care of you" she says
As she hugs me into the operating room.
Now, many, many moons later my skin shows
The ghost scars of her mastery.
So much time has passed.
So many lessons.
So much grace.
My life transformed.
Taking me places I didn't even know
Were buried deep inside me
On The Horizon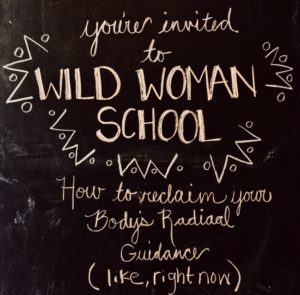 Our next session of WILD WOMAN SCHOOL is coming up!
Join From Anywhere on 11.13.17