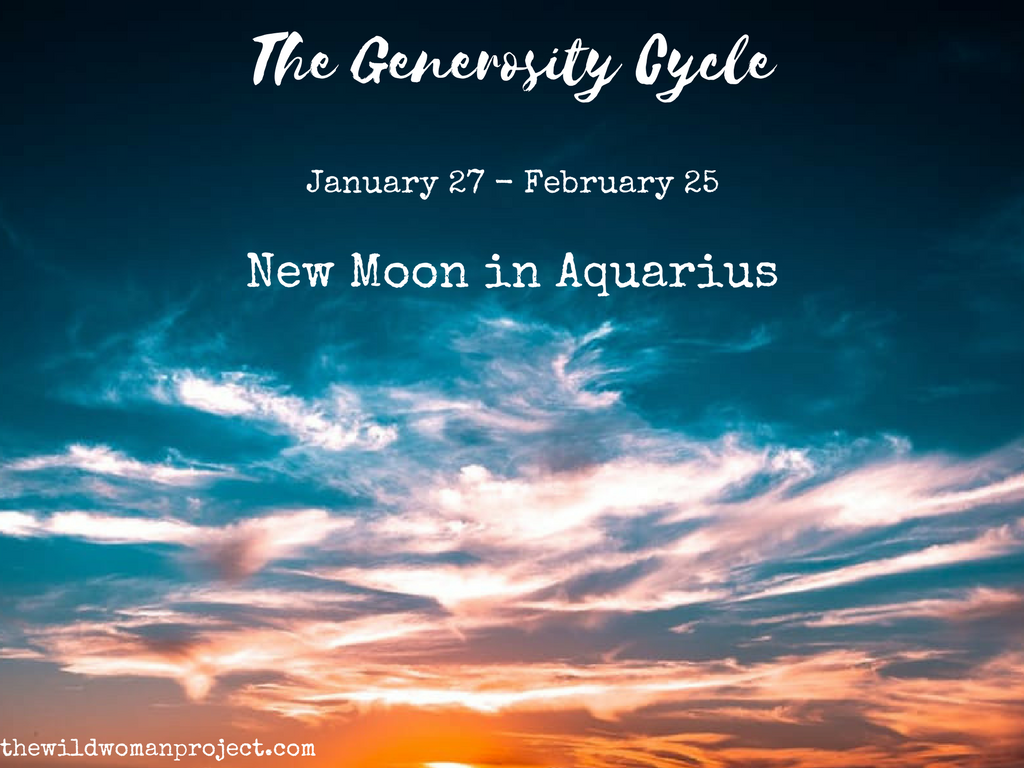 "A thing is bigger for being shared."
~ Gaelic proverb
Dear Ones,
Today the first New Moon of 2017 arrives & a new chapter begins!
It is no secret that humans are seeking solutions & revolutions in almost every corner of our shared life on earth. In the year to come, we will need one another more than we ever have. Our communities will, hopefully, become the breeding grounds for inspired change, deep support & love.
Luckily we have the New Moon in Aquarius, the great humanitarian of the zodiac, to aide us now. The Wild Woman Project theme of the Moon Cycle, January 27th- February 25th, is GENEROSITY.
Generosity is the strengthener of our collective connective tissue.
Inside this *juicy* New Moon Edition of Wild Woman Weeklyish, you will find: A New Moon Talk on the Power of Generosity, A New Moon Practice, An Image to Reflect On, Words from Masters of Generosity, Journaling Questions & straight up advice for the Cycle.
You may start the exploration here, in the New Moon Report, in our international network of Wild Woman Project Circles (find one near you) and/or in Your New Moon Companion (download here).
Let's dive in:


A Practice: Remembering One's Own Abundance
We often put generosity in a box. For example – financial generosity, like so many things in the modern world, is valued above all. Money is great, but each of us carries a treasure trove of resources we may not even see.
Take sometime to reflect, perhaps with eyes closed, on your own bounty. Remember & feel the abundance in your life.
Examples: You may feel your abundance of attention, time, space, extra of whatever you have in your garden/yard/home. Ask yourself, what do I have a lot of ?

An Image to Contemplate: Becoming the Water-Bearer
The constellation which represents Aquarius is the Water Bearer.
The embodiment of generosity, from his seat in the sky, the water bearer pours nourishment upon the heavens and the earth.
Whether in meditation, through movement of some kind, or in a journal or in art, call upon & even embody the Water Bearer.
See what comes in the way of wisdom, energy flow, and straight up guidance as you do this.
Words on Generosity

"That's what I consider true generosity: You give your all and yet you always feel as if it costs you nothing."

~ Simone de Beauvoir, French writer, intellectual, existentialist philosopher, political activist, feminist and social theorist. Author of the classic feminist text, The Second Sex
"The Buddha said that no true spiritual life is possible without a generous heart. Generosity allies itself with an inner feeling of abundance—the feeling that we have enough to share."

~Sharon Salzberg, New York Times Best selling author & teacher of Buddhist meditation practices in the West
"Give what you have. To someone, it may be better than you dare to think."

~ Henry Wadsworth Longfellow, an American poet and educator
"You often say, 'I would give, but only to the deserving.' The trees in your orchard say not so, nor the flocks in your pasture. They give that they may live, for to withhold is to perish."

~ Kahlil Gibran, Lebanese-American artist, poet & writer
"Generosity is the most natural outward expression of an inner attitude of compassion and loving-kindness."

~ The Dalai Lama XIV

Journaling Questions
What do you have to give? What would you love to give? Do you have any limiting beliefs around generosity? Personally, is there any growth/exploration/experimentation that you are craving or curious about, in relationship to generosity? Where in your life can you be more generous?
Advice for the Cycle – Finding the Sweet Spot
The Aquarian perspective wants to find the place where personal need/want meets collective need/want.
Let yourself be like a scientist – experiment with your generosity sweet spot.
Play! See what has an impact AND feels nourishing to you!
Want to go deeper into this theme with a guided experiential journey?…
Find a Wild Woman Project New Moon Circle Near You
In this international network of circles, you can expect: A Sensuous Sacred Space held by a trained WWP Facilitator with Guided Meditation, Sharing, Intention Setting Ritual & more.
Download the New Moon Companion (From Anywhere)
In this Solo Virtual Retreat with The Wild Woman Project Founder, Chris Maddox, expect instant access to 2 MP3 (An in-depth New Moon Talk & A Guided Meditation), along with a Dream Sheet PDF with instructions & inspiration for powerful Intention Setting.
~~~
Here's the truth: In the midst of break down & apparent darkness, people are awakening quickly now. Do you feel it? We were born with creative superpowers, and together, we really can create a new world.
With this New Moon and in the cycle ahead, we sincerely hope that you, our beloved community, will join us in calling on profound generosity & remembrance that we are in this together.
Deep Love & BIG Howls,
Chris
P.S ~Wild Woman Project Circle Leader Training is coming up! Join us for 7 weeks of Wild Womaning, leadership training & personal transformation.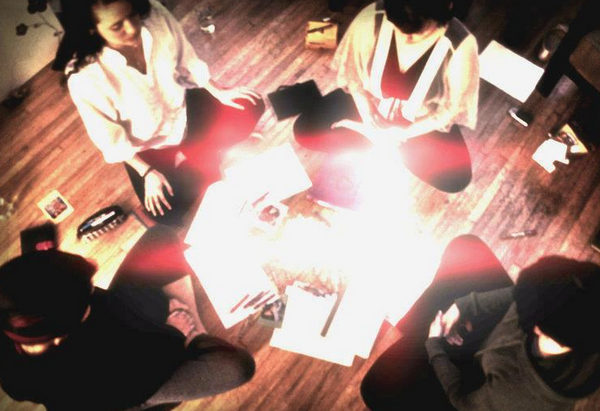 "The Wild Woman Project Circle Leader Training has been absolutely incredible. I knew with every fiber of my being this is where I needed to be, this was the next step on my light working journey.
With Chris Maddox's gentle, graceful, loving, infinitely wise guidance, I am now confidently and effectively leading powerful meditation and visualizations with clients and I have new tools which have not only been a game changer in my work, but have catapulted me to my next level, and in doing so, elevated others to theirs.
The recordings of this training will be something I continue coming back to over and over and over again. In just these short 7 weeks, Chris has become one of my most treasured mentors. I am infinitely grateful and honored to be able to lead Wild Woman Project Circles in my community."
~Stephanie Marino, Long Beach, NY
Learn more & Claim Your Seat Here. 
P.P.S~ Join us on Facebook & Instagram for a Moon Cycle long game of Generosity Truth or Dare (delivered daily)!