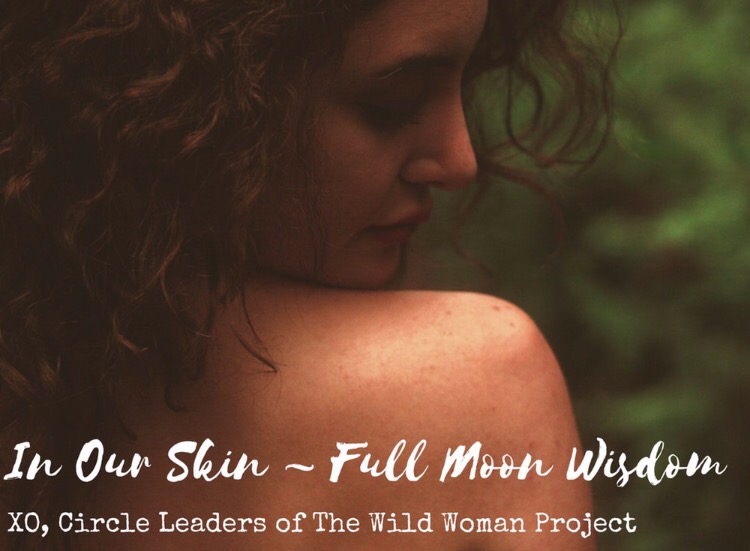 Dear Wild Woman,
Very late tonight or tomorrow morning, depending on where you are, is the Full Moon. This means we are halfway through our In Our Skin Cycle. This Moon Cycle is the second cycle in our year long series, In the Flesh, where we are exploring all the ways we can feel more deeply embodied. We are exploring what happens when we stop asking 'how do I look?' and begin asking 'how do I feel?'.
In exploring our relationship with our skin, we don't have to look far to see all the ways we are told our skin should LOOK. It seems that around every corner there is a product being pushed on us with promises to make our skin the perfect color, the perfect wrinkle free texture, to erase our scars, or our stretch marks. So, this cycle (as an act of resistance to that pressure) we are exploring how we can make our skin FEEL GOOD. How can we awaken the sensing nature of our skin?
Here at the Wild Woman Project we deeply believe in the power of learning from and celebrating each other's diverse experiences, stories, and perspectives. This Full Moon, we have asked the Circle Leaders of The Wild Woman Project to share their experiences with you by answering this question:
What practices make your skin FEEL good?
"My skin thanks me for nourishing it from the inside and showing kindness from the outside. So I try and drink plenty of water and eat good food to make it glow from the inside and take relaxing baths and massage in lovely body oil to make it smile from the outside. But the thing that makes my skin truly sing is when I think good things about it! When I acknowledge what an amazing job it does and reminisce about the stories of my scars and stretch marks with a full and grateful heart."

~ Rochelle Marsden – East Riding of Yorkshire, England
"I don't have the best relationship with my skin. I have always been very mean and hurtful to it. This month I have been focused on caring for my skin in a new way. I have been taking lots of baths with rose petals, rubbing the rose petals on my skin. Closing my eyes and just appreciating the sensations that arise from this huge organ of mine. At night, I shed my clothes and lie naked in my yoga room. I put my heater on, choose any crystals or oils I feel called to have close to me and I meditate on my skin, i talk to my skin, caress it if I feel called, I go into my skin. I have found this practice super healing for my relationship with my skin."

~ Aimee McLear – Berkshire County, MA
"My skin loves to be touched in a soft and sacred manner. She loves simplicity and nourishment of warm oil, with a hint of frankincense or Rose. Soft sheets with a dap of lavender are nothing short of magical."

~ Dna Vacchelli
"Bathing in warm water…Massage too! I love being touched!"

~ Jennifer Hryciw – Pacific, WA
"I love to slather my skin with almond oil after a nice long bath in Lavender scented Epsom salt." 

~ Suzette West – Port Orchard, WA
"I love to use oils on my skin. I luxuriate in the process of spreading it on my skin, soaking in the scents, and nourishing my skin. I love this especially for my arms. I also take my time using a scrub on my legs in the shower, and slowly rub it up and down my limbs.

And massage is my favorite way to feel good in my skin. Whether it's light touch when I simply place my arm out for my husband to lightly rub, or going all in for a spa experience."

~ Kimmay Caldwell – NYC, NY
"I love to pamper my skin with body products I make myself, from sugar coconut scrubs to whipped shea body butter, face masks and self-massage. I enjoy showing my skin the love I would like to receive."

~ Mandy Ruangrit
"I'm a big fan of baths. Whether it's epsom salt + essential oil or I go all out with a Lush bath bomb, I have a glass of red wine, a face mask and I soak. I also find this a really powerful place for New Moon intention setting."

~ Natalie Bird – Cincinnati, OH
"A lover's touch, baths with essential oil infused salts, dancing, laughing really hard, massages, and listening to music (my skin tingles when I hear songs I love, especially deep/powerful ones)."

~ Leigh-Anne LoPinto – Los Angeles, CA
"I enjoy wild swimming when I get the chance and I can steal myself to strip off: the shock of the sudden plunge into cold water or agonising inch by inch immersion. Salt water, fresh water, lakes, rivers, seas, the feel of the water gliding past my skin, holding my body up, the strength and flow of the current, the shocking cold, the shivering, tingling skin after – I feel completely and utterly alive, primitive, wild, senses sharp, the rise of hairs and blood to the skin in the air cooler or warmer than the water. And after, dried salt on my skin, salt tangled hair, or the smell of peat stained lake water and green weed on my skin. The sand or mud between my toes. The amazing tingle of towel rubbed skin. It's a ritual, a rite of immersion and reemergence, reckless, wild, immediate, skin shivering life!"

~ Sarah Houldsworth, Edinburgh, Scotland
"One of my favorite rituals for my skin is dry brushing. I have been dry brushing before I shower in the mornings for several years. I love how it wakes up my body, allowing the blood and energy to rise from my tippy toes to my heart and up to my lymphoids. After a warm shower, I follow up the ritual with coconut oil. Starting at my feet and working my way to my neck/head/face. The silky smooth oil makes me feel like a true Goddess, and my skin always seems to sparkle in gratitude."

~ Kerry Griffith – Centerburg, Ohio
Your Turn!
What is one resource/practice or inspiration that has helped your skin FEEL good?
On the Horizon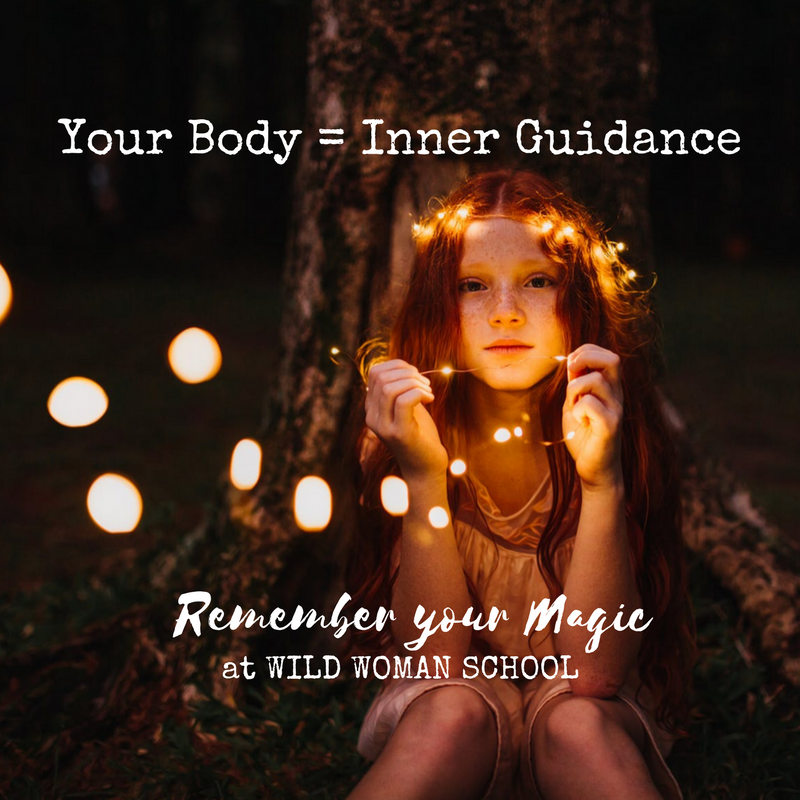 Our next session of WILD WOMAN SCHOOL is coming up!
Join From Anywhere on 11.13.17