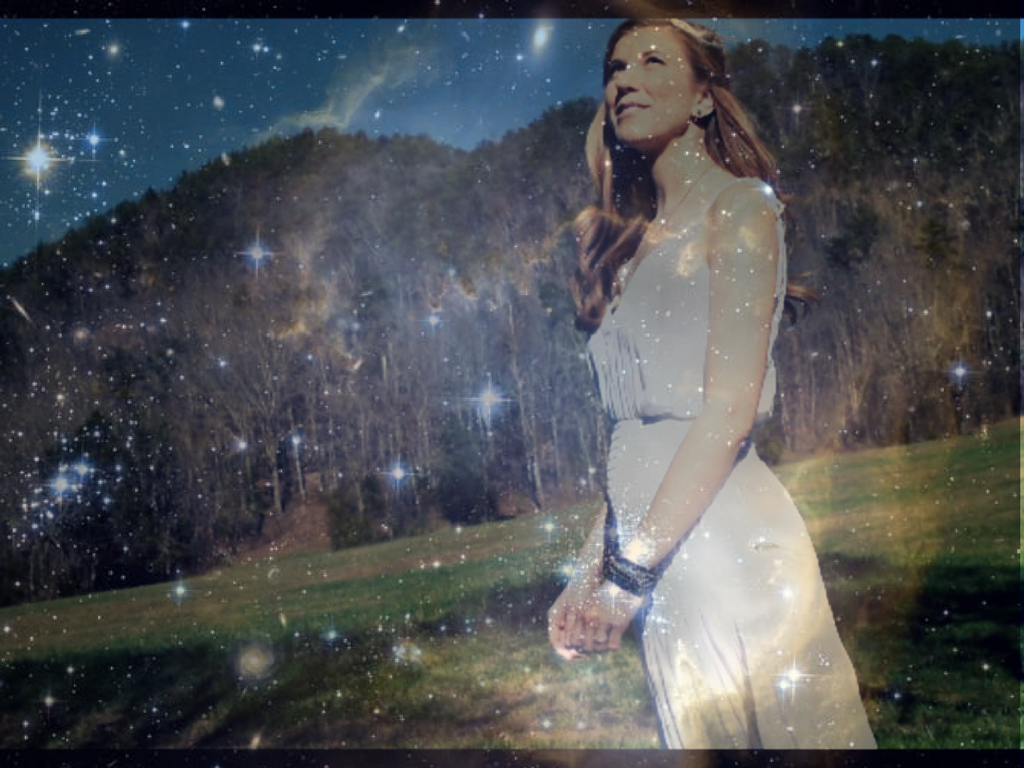 "I believe that dedicating ourselves to Mastery makes us dig deeper and aim higher. We say, "I'm not satisfied as is" and begin to focus in on what we want and how to achieve it. It's all about that shift in consciousness and staying grounded in self love. Inevitably the inner work we do radiates outwards and is a power for good in the world!"
Each and every moon cycle, we are interviewing a Circle Leader who has strong astrological connection to the Cycle at hand.
For the Mastery Cycle, we are featuring Brooke Cenicola East who leads a Wild Woman Project Circle in Sevierville, Tennessee
Meet Our Featured Circle Leader: Brooke

How did you find The Wild Woman Project?
It is all Kimmay Caldwell's fault (God I love that girl)! lol In all seriousness though I saw a string of Facebook posts of hers talking about being on a mountain with other women unplugging and recharging. Everything about it (Wild Woman Fest '14) seemed magical and like something I really needed in my life! As I recall I either commented asking her about what this magical place was or I simply looked into TWWP based on the hashtags. I signed up for Wild Woman Weeklyish, read about circles and went on with my life as it was. I didn't always read the newsletter, there weren't circles available in my area and really I was only interested in going to one led by Kim. I trusted her and I wasn't really into anything too "hoo hoo-ju ju" (that's the official word for it I'm sure). Looking back I can see now that the notion of diving deep needed to stew within me for a while. But 2014 was when the seed was planted. March 2016 I was planning a trip to NY and remembered Kim's circles, so I looked up the date of her next event and planned my trip so that I would be able to attend. That trip was the beginning of a great internal change for me. I felt the call to become a circle leader almost immediately after her circle…and I didn't trust it, I didn't trust myself. But with the support and encouragement of Kim and my husband and other close friends I took the leap and began training that spring.
How has your life changed since becoming a circle leader?
Oh man. Before becoming a circle leader I had reached a point in my life where the ways I was accustomed to accessing spirit were no longer working for me. I couldn't understand why! But I felt very empty, very disconnected. It was very upsetting. Chris's Leadership Training taught me new ways of accessing spirit that I had NEVER explored or even considered exploring before. Many of these exercises have become a part of my daily practices, hell I never even had intentional daily practices before! I trust myself, I LOVE myself, I work to remain seated in the essence of myself, I am open to learning all the ways I can access spirit and incorporating those that work for me now and open to learning new ways should there be a shift again in the future, I am so much more grounded, my compassion has expanded beyond what I thought it could, I am more in sync with nature and as a result have received amazing messages from the earth and its creatures, I feel awake, I feel intentional, I make time for spaciousness and for listening. The change in my inner life has been amazing especially within this short a time! Externally, I have committed myself to doing the work and…wow… I am realizing I haven't skipped leading a New Moon circle since I began, even while traveling. My circles are simple, but always end up being exactly what is needed for the highest good of all involved, and EVERY SINGLE time I am reminded of the importance of this work. My own fire is reignited to keep going and seeing the changes and discoveries, whether great or small, in others helps with my ever present desire to make a difference.
What are the other key components of your life besides being a circle leader?
I am a performer. I sing, dance, act, and play ukulele (I'm not amazing at the uke but have been paid enough times now to play it in performance that I'm claiming it as part of my identity damn it!) I am very passionate about performing and have been doing it professionally since I was 10. It is my world. My husband and I are currently working on writing and producing our own show and becoming a duo/act with the intention of touring and becoming guest entertainers on cruise ships and the like. Making music with my husband is indescribable…its what makes me tick…
(No website yet but you can find us on social media @TheEastsOnstage)
Oh and I just became a dōTerra Wellness Advocate so I'm excited to start that new venture! Here's the link to my dōTerra website if anyone is interested 🙂
Are there any words you live your life by?
"Money is replaceable but time and moments spent with those you love most are not."
(I realized this early in my adult life and I established it as my mantra)
"Love one another as Jesus loves you, try to show kindness in all that you do, be gentle and loving in deed and in thought, for these are the things Jesus taught."
(and even when the idea of Jesus as my savior doesn't resonate for me, the words of this childhood Sunday school song always stick with me.)
What does becoming a "master " of your craft mean to you?
Practice, practice, practice. Always being open to learning more. I've always known that the minute you think you've learned it all, you're doomed. (Seriously, I perceived that principle as a very young child in dance classes). There is always room for discovery and improvement and the true masters know and exhibit that very understanding.
When do you find it most difficult to walk the path of Mastery?
When I am uninspired and when I am giving my time, energy, and -perhaps most importantly- my power to someone or something other than where my true desire lies. Also, when I disconnect – from myself, from the world, from my friends/community – when I disconnect I almost completely shut down and unless I am intentional and set parameters of time to disconnect, I can easily slip down the rabbit hole and stay there longer than I would like/to my detriment.
What helps you remain on the path?
Being inspired by great theatre, great music, great dance, ultimately great live performance. Also, seeing those I love thriving in their individual enterprises, their deepest desires. Connecting with nature helps me, too. Nature brings up such a humble reverence in me that supports me in getting quiet and focused.
What do you think is the biggest lesson we can learn from aiming to become Masterful?
To be consciously mindful of how we spend our time. To be honest this is the biggest lesson I've learned in 2016, and it seems to me that all the content Chris offers TWWP is connected to this principle in some way.
Why do you think it is important that we continue to walk this path?
I believe that dedicating ourselves to Mastery makes us dig deeper and aim higher. We say, "I'm not satisfied as is" and begin to focus in on what we want and how to achieve it. It's all about that shift in consciousness and staying grounded in self love. Inevitably the inner work we do radiates outwards and is a power for good in the world!
Is there one symbol, word, or phrase that comes to your mind when you think of Mastery?
At first nothing was really coming through to me when contemplating this question! I kept imagining the third-eye. I'm not exactly clear on why, I mean I know that it is a symbol for higher consciousness, which is totally in line with my feelings on Mastery. But I Gooogled "symbols of Mastery" just out of curiosity and was surprised to see the celtic trinity knot or Triquetra. The triquetra has always been symbolic for my husband and me throughout our relationship and we chose wedding rings with the knots in them for the symbolism of eternal love. The knot has various interpretations of symbolism and meaning but the one that I found today illustrates the idea that Mastery is found at the center of Mind, Matter, and Mystery. I love that!