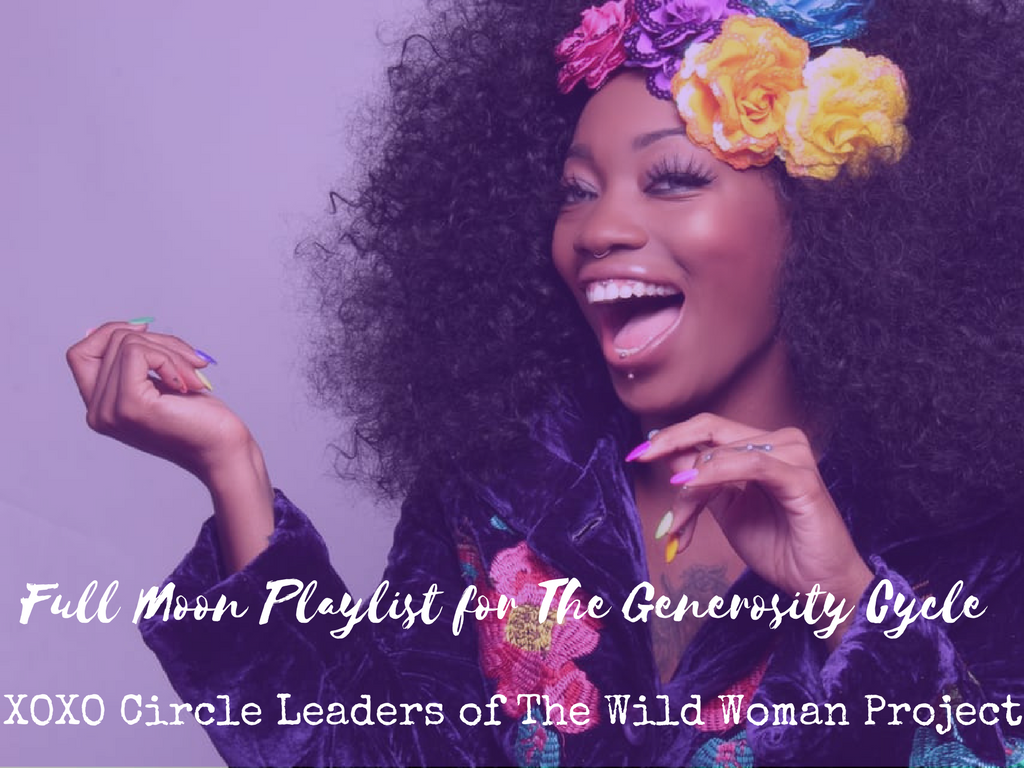 Dear One,
The Moon is Full & we are officially half way through the Current Moon Cycle.
Today is a great one to reconnect with the intention you created at New Moon time.

There are so many ways to do this – journal, sit with eyes closed, make art, dance, go for a walk in nature, take a bath, HOWL – all as means of contemplating & exploring & connecting deeply with the light of inspiration within.
The Circle Leaders of The Wild Woman Project have come together to make a Full Moon soundtrack for you!
These are songs of GENEROSITY/ LIBERATION / REVOLUTION for the highest good. I recommend listening to it in a Divinatory way, by clicking shuffle, and seeing where it takes you!
Listen On Spotify: Generosity Cycle Playlist
We are a international group of self identifying wild women, so calling our playlist eclectic is, naturally, an understatement. You will find many forms of expression, from hip-hop to country to soul music, and on. See what moves you.
If Wild Woman Project Circle Leader Training has been tugging at your heart strings, I urge to listen to that guidance.

In training we will go deep into exploring the Wild Woman Archetype, creating Sacred Space & Ritual, Guiding potent Meditations, and much more. Learn more, hear from women who have been through the process & Claim Your Seat Here.

We begin on February 27th!
I hope you HOWL this very special Full Moon, Solar Eclipse – WITH.A.COMET tonight!
Deep Love & Respect,
Chris
P.S.~ Our third session of WILD WOMAN SCHOOL, How to Build & Strengthen Your Sisterhood (like, right now) will happen NEXT WEDNESDAY – Join us!